Introducing the newest arrivals to our Cleaning Equipment Manufacturing SA - CEMSA range of high-quality cleaning equipment is the CEMSA PWJ 1523 Drain Jet.
The drain jet suits a variety of applications and industries and is most popularly used in the plumbing, agriculture, construction and municipality sectors.
It is an integral part of every professional plumber's tool kit and is suitable for pipes between 40 and 160mm in diameter.

 CLICK HERE to visit the Website of BAYWASH: https://www.baywash.com.na

  Scroll down for more information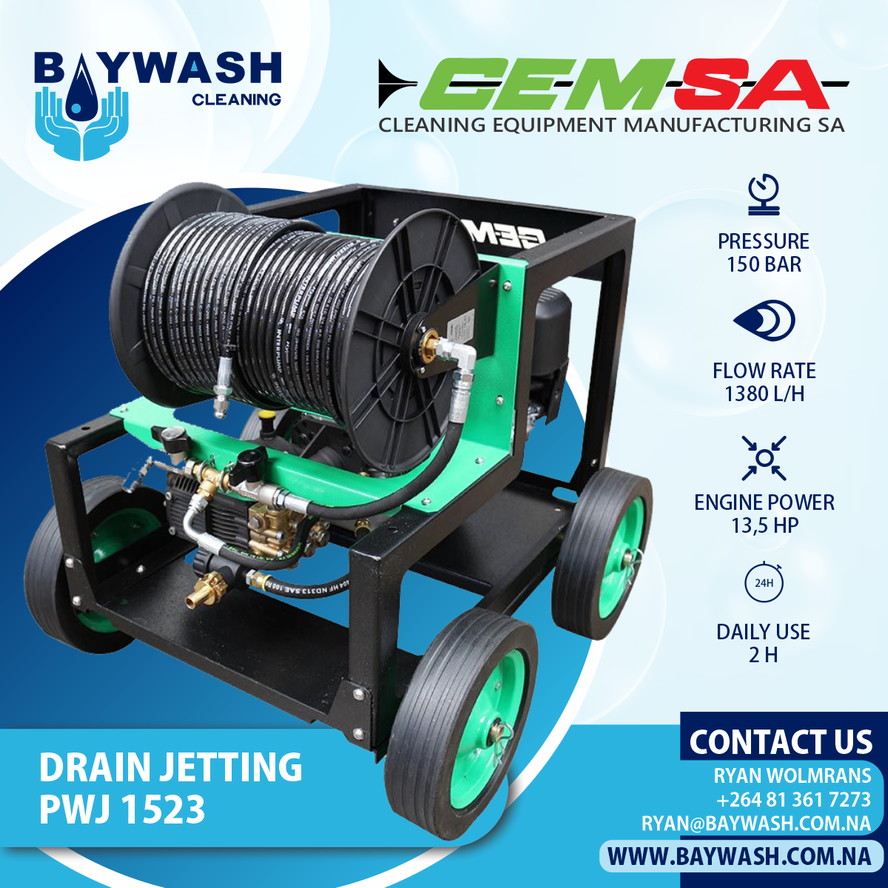 Ryan Wolmrans:
 CALL: 081 361 7273
 CLICK HERE to e-mail: ryan@baywash.com.na

 

  Walvis Bay:
 CALL: 064 - 220 843
 CLICK HERE to e-mail: reception@baywash.com.na
  Windhoek:
 CALL: 061 - 231 999
 CLICK HERE to e-mail: orders@baywash.com.na

 CLICK HERE to find BAYWASH on Facebook: https://www.facebook.com/baywashgroup

 CLICK HERE to find BAYWASH on Instagram: https://www.instagram.com/baywashgroup

 CLICK HERE to find BAYWASH on LinkedIn: https://www.linkedin.com/company/baywash-group
---

NAMIBIA:  Digital Marketing Special NOW ON
4 advertisement campaigns at the rate of 3
Bulk e-mail campaigns & all Social Media postings included.
Normal Rate = N$ 1,460.00   NOW = N$ 1,125.00
Limited time only - please make bookings as soon as possible 

       »   We are a well-established leading digital marketing agency in NAMIBIA on behalf of the publicist above.
       »   20+ years digital programming & development experience & expertise guarantees efficiency & effectiveness.
       »   40,000+ verified bulk e-mail subscribers - continuously updated with new interested parties.
       »   Our campaigns are 100% compatible & responsive on ALL devices.
       »   As a value added service (free of charge), we also post the newsletters on our Social Media platforms.
       »   Click on the icons below to contact / find us:
| | | | | | | | | |
| --- | --- | --- | --- | --- | --- | --- | --- | --- |
| | 081 687 8888 | Profile | Page | | | | WhatsApp | Archive |